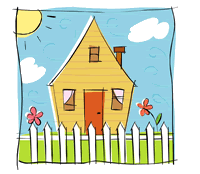 When we came back from our holiday, we were greeted by our very excited number 1 son with the news that he wanted to 'borrow some money' from us. Further conversation revealed that he and FDIL had decided to take the plunge a buy an apartment (they were called flats in my day) on a new development about a mile or so away. Gulp. Wasn't really expecting that. When they got engaged earlier in the year we all thought it would be years before we moved to the next step, although I do remember saying, several times 'You need somewhere to live before you get married – you can't live here' (not in an unkind way you understand – just mother's practicality). I have despaired of either son ever being able to buy their own home but now – well, I'm blown away with the suddenness of it all.

I should explain here that we are not made of money – the 'loan' we made them has to be repaid ASAP – or sooner. Since Friday our life has been a whirlwind of activity – I hadn't even seen the place they wanted to buy although John had been along a few weeks ago. By Saturday evening the builder had reduced the price by an absolutely amazing amount (something about not taking them up on their extortionate '25% loan' repayable at the market price when settlement is due – this is written in very small print), they had been offered a mortgage (which was nowhere near as hefty as I thought it would be – although it's payable over 35 years). By Sunday lunchtime they had signed all the paperwork for the builders and paid their deposit and had a bound document naming them as the owners of their first home. Now the fun begins with all the legal stuff – welcome to the real world son, dealing with solicitors and the like, my how he's grown up this week.

I have mixed emotions at the moment. Excitement for them and a sense of, I don't know, empty nest syndrome perhaps. Of course son 2 will still be at home (he's already eying up his brother's bedroom) but I felt very emotional on Friday when he showed me around what will be his first home away from home – all you other empty nesters out there, please tell me it's not unusual..........