Still on Summer School time over at Jenny's and we reach the colour green in our rainbow series.
When I was a child living just to the north of London, a shopping treat was a trip to the nearest big town which was Watford. We didn't have a car back in the sixties and seventies so we always took a bus – or to be more accurate a couple of buses. The reason for taking a couple of buses was because I got travel sick, but only on green buses! And the bus to Watford was green so invariably what would happen is we would get half way, I'd begin to turn green in keeping with the livery of the bus and have to get off for fresh air and wait for the next bus to come along! The link between green transport and travel sickness stayed with me for many a year and I always took green to be unlucky for me, for that reason.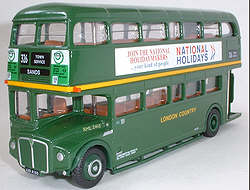 This picture is the closest I could get to the actual bus which was number 306, it was back in the day when the bus had no doors and both a conductor and a driver, I used to love the ticket machine that the conductor used!
Ironically when the time came for me to buy a car, my very first car was a Mark 2 Ford Cortina which was – green! The day I collected it I was driving it home and managed to take the wheel arches out by skimming along the side of a removal lorry and on the same day, when I went to fill it with petrol, I managed to flood the boot because the fuel tank had been modified and the tube that went from the filler cap to the tank had become disconnected! I've had a Google for a picture but haven't been successful! After that the irony continued as the next two cars that I had registered in my name were also green – I had more luck with those and no accidents